Blog
Keep Drawing Lines
Sandra Pasini, February 2021
Once more we are in a lock down period – this time the sky is grey and the winter seems longer than earlier years.
I think back on the year that has passed with a mixture of different emotions: a rediscovered peace and more time with the close family, long phone calls with friends, long walks in deeper contact with nature and at the same time I feel a kind of uneasiness about not knowing what the future will bring.
However, at Teatret OM we have done our best to continue the work.
In March 2020, during the first lock down, we, like the other theaters, were not allowed to perform or invite guest performances to our theatre. Schools and shops were closed and the city was emptier than usually.
In mid-March, I saw a report on Italian television about people singing from windows and balconies, as a reaction to all the disturbances, I think their way of reacting was very beautiful.
So I thought: Why not do this in Ringkøbing?
We chose to contact the nursing homes in Ringkøbing-Skjern municipality because the elderly people were not allowed to have visits from their family so we wanted to give them a musical hug.
In collaboration with the institutions, we managed to give a small concert outside some of the nursing homes in the municipality in March and April. The concerts featured 3 actors from Teatret OM and my 8-year-old son Laurits, who was home due to lockdown of schools.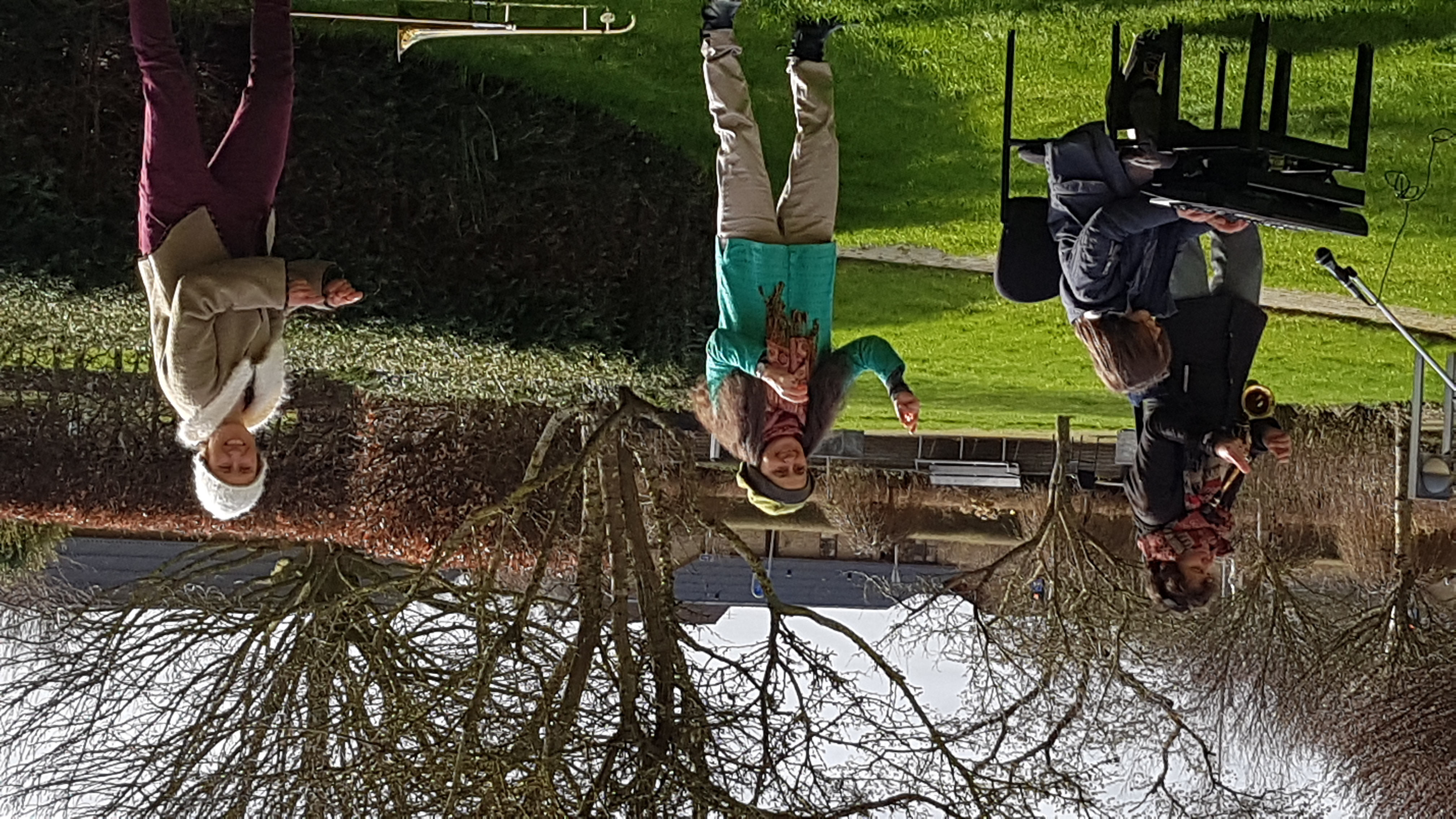 It was an experience that made both us and the nursing home residents happy.  And because our little performance was received so well by both residents and staff, we decided to continue. We applied for and got funding from the Danish Arts Foundations for development of a short theater performance which we performed outside the nursing homes in August. Based on this experience we got the idea for development of a new performance.
We have been an independent theater group for many years before we became a regional theater of the municipality in 2006. The start up as an independent theater group has given us valuable tools to survive in difficult situations. We have performed in streets, in schools, in churches, in nature; this has been a training in not surrendering but always finding strategies to continue.
Now that we are regional theater and receive public support, this "training" has given us the opportunity to react quickly and be present in a period where we are not allowed to be together.
We accept the challenge that this time offers us, and, like many artists all over the world, we continue to work on various projects as for example:
A performance "Cat · Bird · Fish" for children inspired by the marvelous paintings of the painter Paul Klee featuring Annemarie Waagepetersen.  Sara Ballestri (technician), Antonella Diana (scenography), Håkon Berre, (music composer), Deborah Hunt (objects), and myself as the director of the performan
Before the corona lock-down we had two projects in pipeline, both of them have been changed.
Production of a new clown performance (starting February 2020) featuring Mika Juusela (Finland) and Sandra Pasini, directed by Leo Sykes (England / Brazil). The work has been postponed to November 2021.
A concert performance with Sandra Pasini and Parvathy Baul, singer, musician and storyteller, and one of the leading performers within the Indian Baul tradition. Parvathy has performed all over the world since 1995. The performance is created in collaboration with Francesca Romana Rietti, theater historian and Roberto Diana, music therapist. The work is currently continuing online.
In addition we are working on other projects:
An installation for the Ur-Nat 2022 festival, a collaboration between Tatiana Cardoso, associate professor of theater at the University of Porto Allegre (Brazil) and Antonella Diana, scenographer and leader of the Scenographic Lab. at Teatret OM. The meetings take place online.
Implementation of a project "The Giants are Coming" with Tine Madsen and Tippe Molsted, as coordinators and with participation of Fleur Marie Fuentes from the theater group Les Grandes Personnes (France). The project involves 5 local communities in Ringkøbing-Skjern municipality.
We are thankful that over the past year we have had great support from our municipality for the choices we have made to be able to continue. The financial opportunities from the Danish Art Foundation have also helped us to support the artistic activities.
We feel vulnerable in this period not knowing how the world will look like in a few weeks or months. We are used to plan our time and be able to move freely in Denmark and all over the world.
We are all part of a great challenge that we will remember and that will leave traces inside us, but we must not stop building bridges into the future.
I would like to end this article with a quote by Paul Klee, which reads as follows: "A line is a dot that went for a walk".
During this absurd and unique situation all over the world which unites us all, the most meaningful thing right now is to try to keep drawing lines without worrying about how the final image will look like
 11th January 2020
Cultural Prize 2019
Excerpt of the speech from Erik Viborg, chairman of the municipality's Cultural Commitee: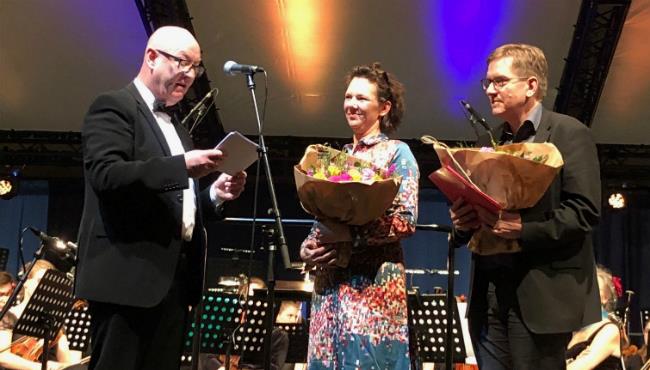 30 year's of worldwide and on a small, humble stage on the outskirts of Ringkoebing, I am talking about Teatret OM. Since 2006 a small but persistent, creative and exuberant troupe has given locals as well as vistors from far and near great performances in an industrial area of Ringkøbing and also toured around the municipality and abroad. Teatret OM is both wide ranging and international and at the same time very intimate and close and I am sure that anyone who has seen one or more of their performances will be able to confirm this. With your international contacts you create performances that awaken the senses and provide food for thought.
Every third year you bring foreign artists to Ringkøbing for the UR-NAT theatre festivals which is very inspiring for the local, cultural life. We also remember the magnificent show at the port of Hvide Sande in December 2017, marking the end of the European Capital of Culture where Teatret OM also played an important role  You showed us once more that qualitity and creativity go hand in hand and you can easily think big, even if you are a relatively small theatre.
In Ringkøbing-Skjern we call our municipality "Nature's Kingdom". At Teatret OM you live in and with the nature and let yourself be inspired by nature, You observe the actual trends which inspire you to make performances with wit and bite.
Newsmail
Recieve lastest news from Teatret OMs
performances, workshops and activities