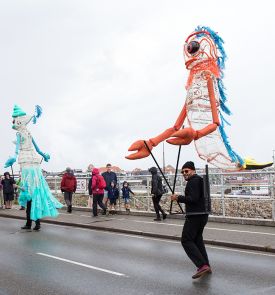 The Gigants are Coming
Giant insects come to West Jutland.
5 local communities are invited by Teatret OM to design, develop and build their own giant fantasy insect of 3 - 4 m in collaboration with professional artists.
The Gigants are Coming is a cultural project that takes place in Kloster, Borris, Stauning, Videbæk and in the residential area of Damtoften in Ringkøbing in 2021-22. Professional artists invited by Teatret OM together with local people will create a giant puppet of 3-4 m in each community. The Giants will be built as fantasy insects and developed through workshops and other creative processes. Later on, the Giants will become the focal point of local cultural events.
Tippe Molsted and Tine Madsen from Teatret OM have had a lot of meetings with schools, associations and others in the 5 above mentioned communities. 
Tippe Molsted:
"It is so good to feel the support of the project and to hear that there is a great understanding of the importance of wild nature and insects. Insects of which many are endangered and on which we are deeply dependent. We are really looking forward to starting the project and working together with children and adults, young people and old people.
 Sandra Pasini, artistic director of Teatret OM:
"A common thread in our work is an artistic exploration of the relationship between man and nature. We hope that the project will stimulate the citizens' creativity, and at the same time give them relevant encounters with art, which will also will evoke their curiosity to experience performing arts as spectators and participants in other artistic contexts ".
The artistic process is led by Teatret OM in collaboration with the French-Chilean artist, Fleur Marie Fuentes from the artist collective "Les Grandes Personnes". www.lesgrandespersonnes.org
We have started an exiting collaboration with nature guides from Ringkøbing-Skjern Museum. Together we will focus on the insects and combine knowledge and experiences with creativity and art. 
Economy
We are currently raising money for the project from various funds. The main expenses are fees, travel expenses as well as materials for the Giants. 
Time Schedule
February 2021: Inspirational meetings in the local communities. 
April 2021: Development of ideas and design of Giants. In each school we will have workshops in collaborations with school teachers. 
An open workshop for families (Saturday and Sunday) in collaboration with local co-hosts, nature guides and Teatret OM: Trip in the nature with subsequent creative workshop. 
A 2-day workshop led by Fleur Marie. 
Other local activities (to be discussed at the inspiration meetings in February)
September-December 2021: Building of Giants. Workshops will be arranged in each community (2 weeks). The workshop is led by Fleur Marie Fuentes and staffed by 2 employees from Teatret OM and local volunteers. The workshop runs afternoon-evening.
2022 - Local naming of Giant and several workshops. 
The Gigants are Coming culminates in the finished giant insects together with local children and adults from the different areas will be participating in a joint parade at Teatret OM's international UR-NAT festival, which will take place in 2022.
Photo:
Prior to Teatret OM's UR-NAT festival in 2019, 2 giant figures were built: the mermaid Aqua Marine and the mermaid Omar. The gigants participated in a parade in Hvide Sande. The 2 giants were built by puppet maker Fleur Marie Fuentes in collaboration with volunteers from Teatret OMs Venner (a friends asscociation of Teatret OM).
Newsmail
Recieve lastest news from Teatret OMs
performances, workshops and activities