Cultural Prize
11. January 2020
Cultural Prize 2019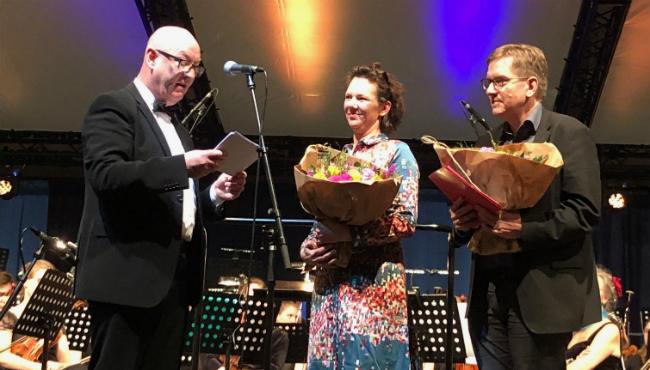 Excerpt of the speech from Erik Viborg, chairman of the municipality's Cultural Committee:
30 year's of theatre worldwide and on a small, humble stage on the outskirts of Ringkoebing, I am talking about Teatret OM. Since 2006 a small but persistent, creative and exuberant troupe has given locals as well as vistors from far and near great performances in an industrial area of Ringkøbing and also toured around the municipality and abroad. Teatret OM is both wide ranging and international and at the same time very intimate and close and I am sure that anyone who has seen one or more of their performances will be able to confirm this. With your international contacts you create performances that awaken the senses and provide food for thought.
Every third year you bring foreign artists to Ringkøbing for the UR-NAT theatre festivals which is very inspiring for the local, cultural life. We also remember the magnificent show at the port of Hvide Sande in December 2017, marking the end of the European Capital of Culture where Teatret OM also played an important role  You showed us once more that qualitity and creativity go hand in hand and you can easily think big, even if you are a relatively small theatre.
In Ringkøbing-Skjern we call our municipality "Nature's Kingdom". At Teatret OM you live in and with the nature and let yourself be inspired by nature, You observe the actual trends which inspire you to make performances with wit and bite.
Newsmail
Recieve lastest news from Teatret OMs
performances, workshops and activities